VCAS had the great honor of being the charity of the month for Horizon Science Academy Middle School in Columbus, OH. Jason, a retired army staff sergeant and vital board member, his PTSD service dog, Abraham Lincoln, and myself paid a visit to the school on Friday, February 9th, to talk more about what VCAS's mission and the essentials of service dogs.
When I arrived to Horizon Middle School, I was immediately greeted with a sense of childhood. It has been a long time since I have been in a middle school! The walls were vibrant with posters and I could hear a gentle humming of learning from every direction. Dr. Hope Raschke, the school's 7th grade Social Studies Teacher and Enrollment Coordinator, was the mastermind behind the event and showed me to the classroom where we would meet the kids. On the way to the room, we saw all the donation slips they had been collecting for us as well as a board all about VCAS. The school also has a therapy dog named Snickerdoodles that comes in every Thursday and there was a bulletin about him as well. It was fun to see the opportunity the kids have for their own human-animal bond on a regular basis.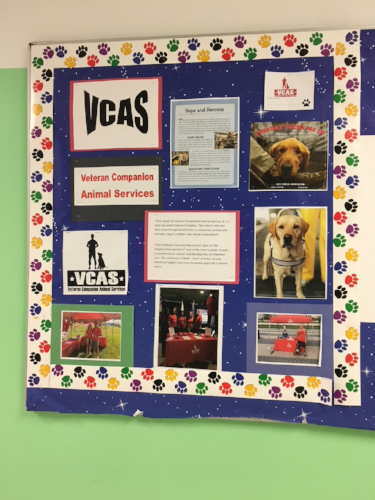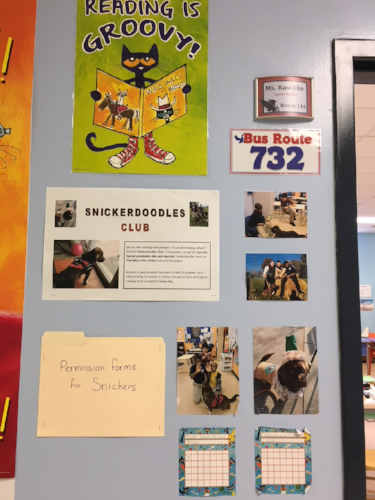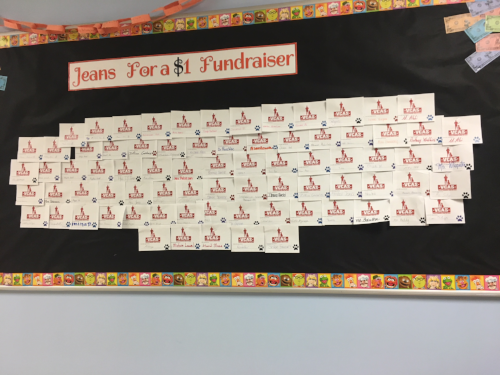 Once the kids were in the room, you could literally feel the excitement buzzing. They all snuck quick peeks at Abraham and then would turn around with huge smiles on their faces. Some were a little scared, as Abraham is not the "typical" service dog. But, Jason's talk put everyone at ease. I did not see a head turn from Jason the whole time. First, he had us all play a game to understand PTSD. So, every time Jason described a happy time, like getting presents or seeing your favorite family members, everyone raised their hand. However, the second part of the game was pretending to be a veteran with PTSD and every time that happy event was said again, you could not raise your hand. You could feel the anticipation in the room when winning the lottery was announced. One kid even risked losing the game and raised his hand anyways.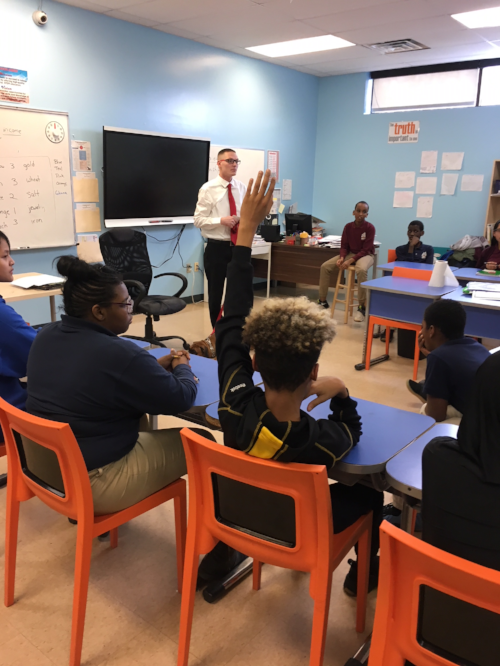 Then, Jason talked about how to recognize a service dog (a vest), what their purpose is (to perform specific tasks), and how to interact with them in public (always ask, first!). Lastly, each kid had the chance to give Abraham a marshmallow and they all received "magic" VCAS Frisbees – if they were thrown in school, they would disappear! :) Needless to say, it was an absolute blast. VCAS is so grateful for not only the donations and the exposure, but also the chance to spread the word of the benefits of the human-animal bond to young, developing minds. We are really looking forward to the next time!